April 3, 2022

THE CHURCH OF CHRIST ON M 51 S

We welcome you to our worship services this morning. We hope that you will be encouraged and uplifted by our time together. We have no creed or set of rules to force on you. We simply rely on the Bible to tell us what to do and try to copy what we read the church in the first century did. We meet here every Sunday, but we also have Zoom available for those who are interested. Just ask and we will include you in our Zoom services. Call Karl Marcussen at 574-514-1400 for information.
TODAY'S LESSON
Even though we are meeting in the building we are continuing to have our worship services broadcast via Zoom for those not able or not feeling comfortable being at the building.
THIS SUNDAY John Clayton is out of town. We are having one of our guests preachers do the preaching. Since John is out of town we do not have a printed bulletin.
Steve Wysinger
Our sign by the street!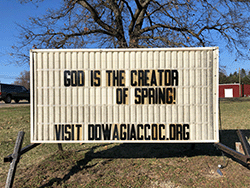 Sign saying from www.sayingsforchurchsigns.com
www.dowagiaccoc.org
04/08/2022